Pakistani army spokesman Major Asif Gafoor has said, "A stupid friend is better than a good enemy. India takes the help of stupidity and lies in hostility."
They also said, "The Indian media is claiming that the Indian Air Force aircraft will stay on the Pakistan border for 21 minutes but we are saying that they come and stand in the border of Pakistan for 21 minutes."
Gafoor has also said that information about coming to the extent of India's aircraft was getting radar.
They also said, "We responded to their planes in three places. In two places they could not even enter our limits, but in the third place they came into our borders and they had to go back within four minutes."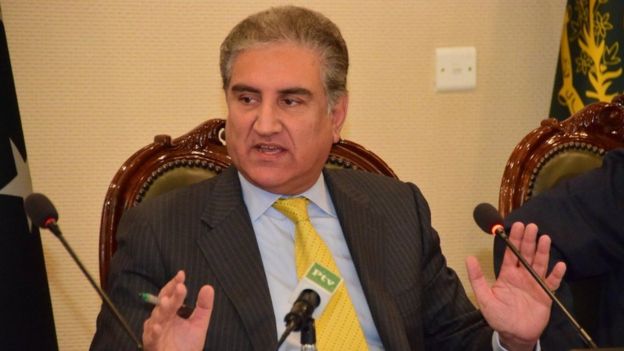 Image Copyrights@SMQURESHIPTI
According to Gafoor, when the Indian aircraft had to return, they dropped the payload. Four bombs were dropped in it. But there was no harm from it. Anyone can go and see. We are taking people there you'll also find this interesting
How do Indian aircraft cross LOC
What are you saying on the Pulwama attack Pakistan's Foreign Minister
India does not engage us under the guise of Pulwama: Pak army
#Balakot What are you saying on the attack?
India is talking about killing 350 extremists but there will be some debris, some may be dead but there is nothing in it.
Gafoor has also said, "India can not surprise Pakistan, we were ready for such a situation, we will answer it, answer differently and give a surprise to India."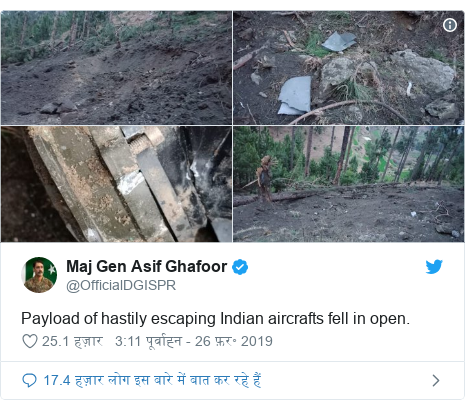 Gafur had tweeted the first and told the world that the Indian aircraft had entered the border of Pakistan.
Mahmood Qureshi's statement
Earlier, Pakistan's Foreign Minister Shah Mahmood Qureshi said that India violated the sovereignty of Pakistan.
The Indian government says that Indian Air Force fighters have destroyed the camp of Jaish-e-Mohammed inside Pakistan, while Pakistan says its Air Force has dispelled Indian planes.
Meanwhile, emergency meeting of the Security Council has been convened in Pakistan. In a statement issued after the meeting under the chairmanship of Prime Minister Imran Khan, India's claims were rejected, saying, "Balakot of India strongly condemns the claim of destruction of alleged terrorist camps and heavy losses. . "
Pakistan is taking journalists of local and international media on the spot. On behalf of Pakistan, it has been said that it will respond to this non-essential attack of India in the place and time of its choice.
The Foreign Minister of Pakistan said after the meeting, "Once again, the Indian government has made unclaimed and fabricated claims to fulfill its objectives. It has been done to meet its domestic needs because the atmosphere is for elections and regional Security and stability have been put in serious danger. "
Quraishi said, "Prime Minister Imran Khan has been asked to be ready for any situation from all parts of the army and the common people."
They said, "This is an attack against Pakistan and Pakistan will reply"
Pakistani journalist asked, what are you looking at?
In a press conference of the Pakistani Foreign Minister, a journalist asked the Defense Minister and Foreign Minister, 'Are we in a position to see if Pakistan is going to give a reply to Pakistan?'
Quraishi said, "This is a time when you should not question the capacity and preparation of the Pakistani air force. Whether Pakistan's leadership, whether it is military leadership or political leadership, when India has to give responses, what is the answer to this is the examination of leadership.
'Defeating the situation was not our motive nor was it, but it is our right to answer the attack. Now the situation is very delicate, I will not tell you any unhealthy thing that disturbs my talk. We are peace-loving countries, but we also understand the importance of protecting Pakistan's territories.